CHANTELLE HERNANDEZ, ADMINISTRATOR
Chantelle started working with seniors after graduating from Heritage University in Washington. While obtaining her degree, she continued to work with both seniors and developmentally disabled individuals and became a strong team leader. Her passion grew over the years as she performed almost every job in senior living and loved getting to know her residents.
While Chantelle was raising her children, she loved volunteering at the schools and was a Campfire Leader for many years, taking her group to camp several times. She was also a volunteer for cheerleading teams and opened one of the first gyms in Oregon. She led a cheerleading team to Girl's Nationals several times.
Over the years, Chantelle has worked in many different management positions, with some of her favorite jobs including being writing activity programs and training many activity directors for Senior Living and maintaining Quality Assurance. Sales and Marketing have also been a strong part of her career, helping seniors to find communities they can call home. She has placed in top sales programs and received several awards for her achievements. No longer wanting to travel, yet still wanting to work with seniors, Chantelle was led to get her Administrator's License.
In 2018, Chantelle was presented with the opportunity to be the Administrator at Waverly Place Assisted Living and Memory Care. It was perfect timing, and she was eager and ready to prove that it is possible to have a great place for seniors to call home. Chantelle fell in love with the mission of Ridgeline Management Company and is proud to create environments where moments of joy, independence, and wellness are the focus each and every day.
One of the biggest joys in Chantelle's life is her husband Andy, who she has been married to for 39 years. She has three children and six grandchildren. In her spare time, she enjoys spending time with her loved ones, her family, and traveling with her husband.
JACQUELINE POYTRESS, M.H.A., SALES AND MARKETING DIRECTOR
Jacqueline's expertise is in managing care transitions.  She has over 20 years' experience, with a Master's Degree in Healthcare Administration, and degrees in Gerontology and Human Behavior.  She is passionate about helping our seniors transition into a new normal of living well.  She has been a Senior Care Specialist, an Assisted Living Administrator, Medication Management Specialist for a long-term care pharmacy and an Educator/Speaker.
She has a Service dog name, Thorn who is trained to identify heart rate acceleration.  He will place his head in your lap and allow you to pet him creating a calming effect to reduce stress and anxiety.   He visits the seniors in our community and has been a huge help in changing lives, one smile at a time. 
Jacqueline has one daughter who has served in the United States Army as a Nurse and has one grandson.  Jacqueline's father lives with her and is a US Army Vietnam Veteran.   She spends most of her free time golfing with her dad, taking Thorn on adventures, and spoiling her grandson.   
RONALD FREDRICKSON, MAINTENANCE DIRECTOR
Ronald Fredrickson is a native Oregonian, who lived in Carlton, Oregon for the past 21 years. He has been in the Maintenance field for senior living for over 11 years. Before he was in Maintenance, he was a production manager for a Manufactured Housing Company and also was part owner of an Insurance Agency.
Ronald loves camping, fishing and likes visiting new places. He loves spending time with his kids and grandkids.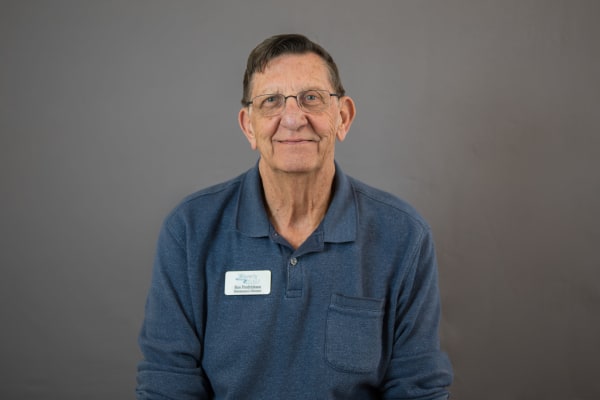 NORM HALSEY, BUSINESS OFFICE MANAGER/ASSISTANT ADMINISTRATOR
Norm has worked as a Business Office Manager in senior living for over eight years.  He was born and raised in Sacramento, California and shortly after high school he joined the Army where he served for 20 years. 
Norm has been with Waverly Place since prior to opening in 2018 and looking forward to watching the community grow with each new resident that joins the community and with every talented and caring staff member that comes on board. 
Norm has been married for over 35 years and has raised a son and daughter.  Hobbies include camping, yard work, and watching NASCAR.